-25%
Zoom the image with mouse
Any Questions?
We are here ready to help
ask an expert
ParfactWorks ZE250 250W LED Grow Bar Light (3 Channels Dimmable)
Limited-Time Offers, End in:
📦 All our led grow lights ship discretely.
⬛ Bulk/commercial pricing: contact us for a volume quote.
🌏 We ship worldwide! Receive a quote at checkout or contact us .
📝 Duties/taxes may be due for international orders.
💵 Register to get a member 5% off coupon code for all lights.
Heavy Duty but Not "Heavy"Fixture comes with industry thickest heatsink guarantee you less heat resulting in longer lifespan.Extremely easy to transport and install thanks to the 'Clip in & out' design which also makes your life easier with lowest maintenance cost and big saves on shipping.Adjustable Full spectrumAdjustable Spectrum basing...
Heavy Duty but Not "Heavy"
Fixture comes with industry thickest heatsink guarantee you less heat resulting in longer lifespan.
Extremely easy to transport and install thanks to the 'Clip in & out' design which also makes your life easier with lowest maintenance cost and big saves on shipping.

Adjustable Full spectrum
Adjustable Spectrum basing on three Independent Dimmable Channels with RJ11 daisy chain option for massive grow operation via a controller.Using Top-bin Samsung LM301H LEDs and Osram ssl80 (incl. White Blend 3000k & 5000k, 660nm red, 730nm IR and 395nm UV).

Powered by Meanwell and Sosen, the power of each channel 0-10V dimmable.

Balanced Light Distribution
Uniform level of PPFD coverage for better canopy penetration.

Energy Saving
Energy Saving up to 50% to an equivalent 2000W HPS light fixture.

Maximum Performance
50% higher yield and plant quality with max yield up to 2.5g/W compared to traditional lighting.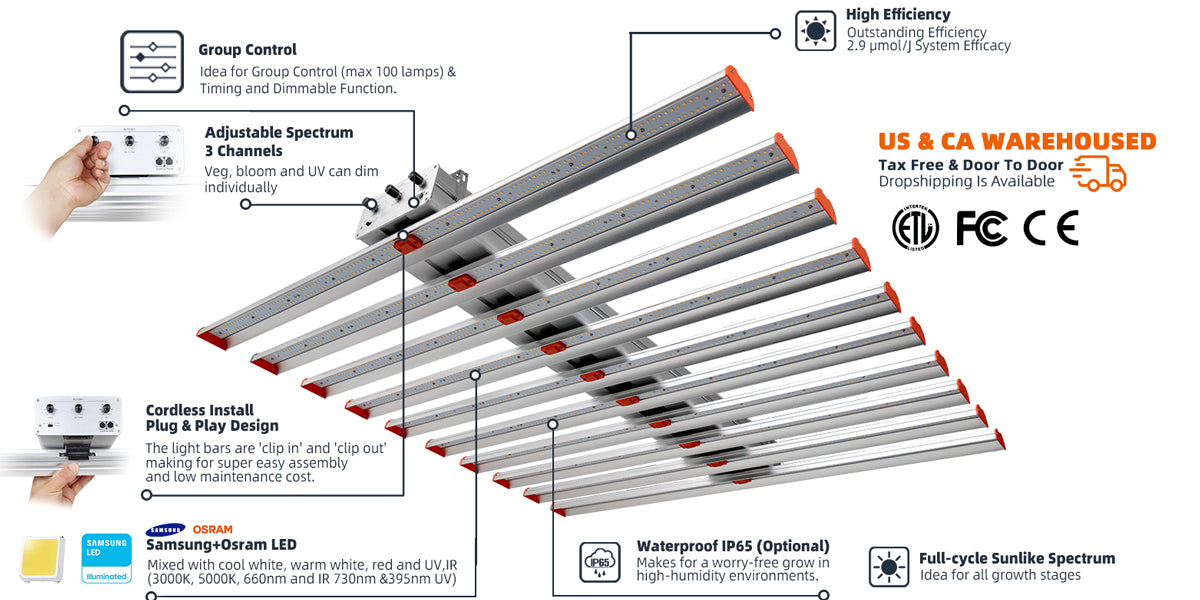 Technical Specifications
Model Name


ZE250

Spectrum

Full Spectrum with UV, IR

LED Brand

Samsung LM301H, Osram ssl80

Diodes

256pcs 5000k + 192pcs 3000K+16pcs 660nm+8pcs 730nm+8pcs 395nm

Input Power

250W

Input Voltage
100-277V
Efficacy
2.9umol/j
Certification
ETL, FCC, CE, ROHS
Fixture Dimensions(cm)
54(L) x 54(W) X 11(H)
Thermal Management
Passive
Dimming
Manual & Rj11 controller
Light Distribution
120°
Coverage
Veg 3' x 3', Bloom 2.5' x 2.5'
Lifetime
> 70,000hrs
IP Rating
Not waterproof (waterproof IP65 

as needed

)

Warranty

5 Year Standard Warranty

Package include
1 x Ze250 Grow Light Bar
1 x 6ft Power Cord
2 x Hangers with carabiners
2 x Adjustable Yoyo Hangers
1 x RJ11 Cable
1 x User Manual
ParfactWorks ZE250 PAR Readings

Independent Dimmable Three Channels - VEG/BLOOM/UV
Hanging Distance & Lighting Time
We follow strict quality standards and we fully stand behind our products. If you have a issue with your unit we will resolve it quickly.
We offer 5 year warranty on our products including 2 Years Full Parts Warranty plus 3 Years Warranty Extension for all parts.
2 Years Full Parts Warranty: Power supply, fans. VDE, power cord, bulbs, led diodes, COBs etc. We can ship new replacement parts to you at no charge in first 2 warranty years (from the delivery date) or customer can send lights to our repair center for repair at no charge.
3 Years Warranty Extension for all parts, parts can be provided for free, customers pay for the shipping cost and repair fees (if there is any).

Disclaimer: If the light has been tampered or it is found that the damage is caused by the customer, there will be a repair fee associated with the return of your product. If the warranty seal is broken without our consent, your warranty becomes null and void. If damage has been caused by abnormal use, neglect (such as dripping water), wrong input voltage, dropping or breaking the light, disassembling of the light, etc, the warranty is void. PARFACTWORKS LED reserve the right to refuse warranty repair or replacement service to anyone.
We are only responsible for problems that arise through no fault on your part. If any problem should arise, please email us or call us first. We will provide you with instructions on how to proceed. Please do not open the light without our permission. Because we are in China, our service would be different from your local service shop. Please take note of that.
The following are Specific Warranty Procedures:

Minor Repairs
For minor repairs such as a power supply and LED board replacement, please contact us with pictures with the unit on "Showing the lights are on".
By diagnosing the issue and we will send free replacement parts immediately.
In the event that the new replacement part does not correct the problem, or there is a more complex problem, the light will be replaced, after it has been received we will send out a new replacement unit to you. The defective unit must be returned in its original packaging and box. If any part is missing or damaged, the sender will be charged additional fees for those parts or blemishes.

SDUA - Shipping Damage Upon Arrival
Before you sign for your package, you need to verify that the light is in good condition. If the light was damaged in shipping, you need to help us by filing a claim of negligence against the shipping company and get it returned to us by refusing to sign for the lights. Once we get the damaged light, we will reship a new unit to you. If it is only a small problem, you can sign it, and we will give you some refund 6~8USD or we can give you some discount (3%~5%) on your next order.

DUA - Defect Upon Arrival
If a light was found not working upon arrival (DUA), and identified as Non SDUA issues, in most cases, it is just a loose connection inside the light, that is easy to fix.
Customers can choose to check it out and fix it, we will give customers a discount (3%~5%) on the next order.
If a light was found not working upon arrival (DUA), and neither SDUA issues nor loose connections, by diagnosing the issue with us, customers can choose to return the light, we cover the shipping charges and we will reship a new one after the returned light received, or customers can choose to do the replacement work, free replacement parts will be sent out immediately, and we will give customers a refund (15~20USD) for each replacement, or give customers a discount (5%~8%) on the next order.

Additional Service

If any critical or uncertain problems occur, please ship the light back to us and we will study and repair it, when in significant growing stage, SunPlus LED would like to offer used replacement lights to make the repair proceed temporarily.

Used replacement lights conditions:
A: A deposit will be required before sending the replacement light out.
B: Customer will cover 1/2 shipping fee of the replacement light.
C: Customer must send back the replacement light in one week after received the fixed light.
D: ParfactWorks will fully refund the deposit if the replacement light is in good condition.
Why shop at PARFACTWORKS LED Grow Lights?
1) We have been manufacturing LED Grow Lights since 2010 producing great durable LED grow lights.

2) Free Discreet Shipping in the USA
We offer FREE shipping in the USA, our grow lights are stocked in the USA.

3) Reliable International Shipping
All of our led grow lights can be shipped internationally using FedEx, UPS, USPS, DHL or by ocean or rail. Most of our grow lights are stocked in Europe.

4) 100% Low Price Guarantee We strive to ensure that our customers get their durable grow light and great value for the money, we offer the absolute best prices online.

5) We are manufacturer offering a Manufacturer's Warranty.
Shop now with confidence and get 100% honored warranties.

6) Safe, Secure, Discrete Transactions
All card payments are processed through our encrypted SSL security processing system. Your identity is always protected.

7) Hassle-Free Returns
We offer hassle-free return shipping if you are not 100% satisfied for any reason.
Q:
Is it always discreet shipping/package?
A: Yes of course. We do discreet shipping for all orders. All our packages are shipped with plastic foam protection to keep it safe, and without any labels "grow lights" or brand name mentioned on the packages.
Q:
What should I do if I cannot check out successfully?
A: Contact us at support@parfactworks.com or online chat, we're always ready to help.
Q:
Do you ship to P.O. boxes?
A: Unfortunately, there are a lot of scammers out there, making it impossible for us to ship to P.O. boxes. Please provide a business or residential address when placing your order.
Q:
Can I cancel my order?
A: If you would like to cancel an order, please contact us as soon as possible at support@parfactworks.com.
If your order has not yet begun processing, we can issue a full refund.
If it has been processed, you can get a refund minus shipping charges (both ways, even if the product had free shipping—we still have to pay for it, after all). A restocking fee of up to 25% may also apply.
Q:
How long will it take for my order to arrive?
A: Most orders will be at your door within 7 business days of placing your order, but this can take longer in some instances.
We will keep you updated as processing and shipping progresses, but feel free to email us at support@parfactworks.com if you have any questions about the status of your order.
We generally process your order within 24 hours of receiving it and it usually ships out within a day or two after that.
We ship most products using standard ground shipping via UPS, FedEx or the USPS. Depending on your location.
Q:
How do I track my package?
A: An email that contains the tracking link URL will be sent to you once your order is shipped.
Q:
What is your warranty? What should I do if my light has a problem?
A: We have a 5-year warranty(2 years free,3 years limited), Check our warranty
details here
If you have a product issue, please contact us first at support@parfactworks.com
Q:
What can I do if I have a business plan?
A: If you would like to cooperate with ParFactWorks, please email us at marketing@parfactworks.com
Q:
What can I do if the Package Shows Delivered But I Don't Have It?
A: Please follow the instructions below if the carrier shows package delivered but you don't have it:
• Do check carefully the area around the shipping address and check with your neighbors or anyone who may have the package for you.
• If there is no clue found please call the carrier directly to report a missing package for the fastest logistics information, meanwhile, please email us about the issue as well (support@parfactworks.com). ParfactWorks can not be held responsible for packages stolen from the delivery address so please be sure to ship to a secure location! If the items are lost, we need at least 30-45 days to investigate. So please keep following the logistics dynamics after we provide the tracking number, and do not miss out on our mail about the delivery notification.
Bang for the buck
Im using the ze250 (250 watt) full spectrum led grow light and wow is it bright! It has everything a plant would want. If you dont already have one i recommend getting one as their obviously the best choice for your next grow light.
perfect to veg a 3.5x3.5 and flower 3x3 grow tent
Great light the foot print its great perfect to veg a 3.5x3.5 and flower 3x3 grow tent. I love the dimmable switch over on the light. The heat from this light its not bad at all easy to keep you temp and humidity on point. The light got a nice desing and good reliability.
Aamzing grow light
Just received my new Parfactworks 250W Dimmable LED light bar and I must say I am very impressed with not only the quality of the materials used but also the light output is amazing. Looking forward to the results that I get from this light. I would definitely recommend it to anyone.
Perfect product,good light coverage
I like this lamp very much.Don't miss out, it can work brilliantly in a small space or a large space.There is no fan, which makes it quieter.But it has excellent heat sinks.It's not as hot as the lamps I used to use, but it's useful.
Quality all the way
Quality built, not too hot and has a perfect spectrum that I prefer, three dimmer switches to separate control. Great price definitely recommend 👍
Highly Recommend!
Full Spectrum with Samsung LEDs. Love it works great and very good prices. Seems very sturdy and well constructed.
This is the one!
The product was packaged up great, easy to set up and not super heavy doesn't run very hot and the ladies are loving the new brightness
Good light for a good price.
Light is well built and very bright, good coverage in a 3x4 area. Three channels dimmable knob is a plus.