Zoom the image with mouse
Any Questions?
We are here ready to help
ask an expert
ParfactWorks PT240 PRO 240W LED Grow Light (Manual and RJ11 Controllable)
📦 All our led grow lights ship discretely.
⬛ Bulk/commercial pricing: contact us for a volume quote.
🌏 We ship worldwide! Receive a quote at checkout or contact us .
📝 Duties/taxes may be due for international orders.
💵 Register to get a member 5% off coupon code for all lights.
About this Item High effciency top-bin Samsung LM301H 3000K & 5000K。 Powered by Meanwell, the light is dimmable by knob manual dimmer or RJ11 connection for massive control opperation. Full Spectrum enhanced with Red, IR & UV. Reliable passive cooling designed with ultra-thick aluminum heatsink. Better canopy light penetration with 120 degrees diffused...
About this Item
High effciency top-bin Samsung LM301H 3000K & 5000K。
Powered by Meanwell, the light is dimmable by knob manual dimmer or RJ11 connection for massive control opperation.
Full Spectrum enhanced with Red, IR & UV.
Reliable passive cooling designed with ultra-thick aluminum heatsink.
Better canopy light penetration with 120 degrees diffused light.
5-year manufacturer's warranty.
Specification
| | |
| --- | --- |
| Model No. | PT240 PRO |
| Power Draw | 240W |
| HPS Equivalent | 600W |
| Dimension/Weight | 65cmx25cm/22"x10", 3.97kg/8.75lbs |
| Mounting Height | 12"-36" above canopy |
| Lighting Coverage | Veg 5'x4', Bloom 4'x3' |
| Power Supply | Meanwell Driver |
| Input Voltage/Current | Autosensing 100-277V/0.87-2.4A |
| Dimming | Manual & RJ11 Controller |
| LED source | Samsung LM301H 3000K (352PCS), Samsung LM301H 5000K (144PCS), Red 660nm (64PCS), IR 730nm (8PCS), UV 400nm (8PCS) |
| PAR Efficiency | 2.8 μmol/J |
| PPFD | 1260 μmol @ 12" vertical distance |
| Full Spectrum | 3000K/5000/660nm/UV/IR |
| Package Includes | 1x PT240 PRO light, 1x 6ft power cord, 2x Hangers with carabiners, 2x Adjustable Yoyo Hangers, 1x RJ11 Cable, 1x User Manual |
| Cooling System | Passive |
| Operating Temp | 20°C ~ 40°C (-4°F ~ 104°F) |
| Lifetime | >100,000hrs |
| Warranty | 5 Years |
Full Spectrum Reading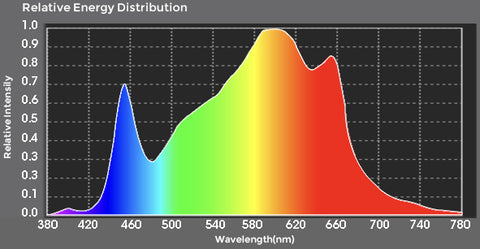 Cool white light 5000K
Accelerate stem growth and promote plants sprout.
Warm white light 3000K
Promote Photosynthesis rate, help plants get more nutrients.
Red light 660nm
Speed up the flowering and fruiting stage, get more crops.
IR light 730nm
Speeds up the Phytochrome conversion, promote plants to produce greater yields.
UV light 395nm
It's that glow that can increase the efficiency of photosynthesis.
ParfactWorks PT240 PAR (PPFD) Readings

We follow strict quality standards and we fully stand behind our products. If you have a issue with your unit we will resolve it quickly.
We offer 5 year warranty on our products including 2 Years Full Parts Warranty plus 3 Years Warranty Extension for all parts.
2 Years Full Parts Warranty: Power supply, fans. VDE, power cord, bulbs, led diodes, COBs etc. We can ship new replacement parts to you at no charge in first 2 warranty years (from the delivery date) or customer can send lights to our repair center for repair at no charge.
3 Years Warranty Extension for all parts, parts can be provided for free, customers pay for the shipping cost and repair fees (if there is any).

Disclaimer: If the light has been tampered or it is found that the damage is caused by the customer, there will be a repair fee associated with the return of your product. If the warranty seal is broken without our consent, your warranty becomes null and void. If damage has been caused by abnormal use, neglect (such as dripping water), wrong input voltage, dropping or breaking the light, disassembling of the light, etc, the warranty is void. PARFACTWORKS LED reserve the right to refuse warranty repair or replacement service to anyone.
We are only responsible for problems that arise through no fault on your part. If any problem should arise, please email us or call us first. We will provide you with instructions on how to proceed. Please do not open the light without our permission. Because we are in China, our service would be different from your local service shop. Please take note of that.
The following are Specific Warranty Procedures:

Minor Repairs
For minor repairs such as a power supply and LED board replacement, please contact us with pictures with the unit on "Showing the lights are on".
By diagnosing the issue and we will send free replacement parts immediately.
In the event that the new replacement part does not correct the problem, or there is a more complex problem, the light will be replaced, after it has been received we will send out a new replacement unit to you. The defective unit must be returned in its original packaging and box. If any part is missing or damaged, the sender will be charged additional fees for those parts or blemishes.

SDUA - Shipping Damage Upon Arrival
Before you sign for your package, you need to verify that the light is in good condition. If the light was damaged in shipping, you need to help us by filing a claim of negligence against the shipping company and get it returned to us by refusing to sign for the lights. Once we get the damaged light, we will reship a new unit to you. If it is only a small problem, you can sign it, and we will give you some refund 6~8USD or we can give you some discount (3%~5%) on your next order.

DUA - Defect Upon Arrival
If a light was found not working upon arrival (DUA), and identified as Non SDUA issues, in most cases, it is just a loose connection inside the light, that is easy to fix.
Customers can choose to check it out and fix it, we will give customers a discount (3%~5%) on the next order.
If a light was found not working upon arrival (DUA), and neither SDUA issues nor loose connections, by diagnosing the issue with us, customers can choose to return the light, we cover the shipping charges and we will reship a new one after the returned light received, or customers can choose to do the replacement work, free replacement parts will be sent out immediately, and we will give customers a refund (15~20USD) for each replacement, or give customers a discount (5%~8%) on the next order.

Additional Service

If any critical or uncertain problems occur, please ship the light back to us and we will study and repair it, when in significant growing stage, SunPlus LED would like to offer used replacement lights to make the repair proceed temporarily.

Used replacement lights conditions:
A: A deposit will be required before sending the replacement light out.
B: Customer will cover 1/2 shipping fee of the replacement light.
C: Customer must send back the replacement light in one week after received the fixed light.
D: ParfactWorks will fully refund the deposit if the replacement light is in good condition.
Why shop at PARFACTWORKS LED Grow Lights?
1) We have been manufacturing LED Grow Lights since 2010 producing great durable LED grow lights.

2) Free Discreet Shipping in the USA
We offer FREE shipping in the USA, our grow lights are stocked in the USA.

3) Reliable International Shipping
All of our led grow lights can be shipped internationally using FedEx, UPS, USPS, DHL or by ocean or rail. Most of our grow lights are stocked in Europe.

4) 100% Low Price Guarantee We strive to ensure that our customers get their durable grow light and great value for the money, we offer the absolute best prices online.

5) We are manufacturer offering a Manufacturer's Warranty.
Shop now with confidence and get 100% honored warranties.

6) Safe, Secure, Discrete Transactions
All card payments are processed through our encrypted SSL security processing system. Your identity is always protected.

7) Hassle-Free Returns
We offer hassle-free return shipping if you are not 100% satisfied for any reason.
Q:
Is it always discreet shipping/package?
A: Yes of course. We do discreet shipping for all orders. All our packages are shipped with plastic foam protection to keep it safe, and without any labels "grow lights" or brand name mentioned on the packages.
Q:
What should I do if I cannot check out successfully?
A: Contact us at support@parfactworks.com or online chat, we're always ready to help.
Q:
Do you ship to P.O. boxes?
A: Unfortunately, there are a lot of scammers out there, making it impossible for us to ship to P.O. boxes. Please provide a business or residential address when placing your order.
Q:
Can I cancel my order?
A: If you would like to cancel an order, please contact us as soon as possible at support@parfactworks.com.
If your order has not yet begun processing, we can issue a full refund.
If it has been processed, you can get a refund minus shipping charges (both ways, even if the product had free shipping—we still have to pay for it, after all). A restocking fee of up to 25% may also apply.
Q:
How long will it take for my order to arrive?
A: Most orders will be at your door within 7 business days of placing your order, but this can take longer in some instances.
We will keep you updated as processing and shipping progresses, but feel free to email us at support@parfactworks.com if you have any questions about the status of your order.
We generally process your order within 24 hours of receiving it and it usually ships out within a day or two after that.
We ship most products using standard ground shipping via UPS, FedEx or the USPS. Depending on your location.
Q:
How do I track my package?
A: An email that contains the tracking link URL will be sent to you once your order is shipped.
Q:
What is your warranty? What should I do if my light has a problem?
A: We have a 5-year warranty(2 years free,3 years limited), Check our warranty
details here
If you have a product issue, please contact us first at support@parfactworks.com
Q:
What can I do if I have a business plan?
A: If you would like to cooperate with ParFactWorks, please email us at marketing@parfactworks.com
Q:
What can I do if the Package Shows Delivered But I Don't Have It?
A: Please follow the instructions below if the carrier shows package delivered but you don't have it:
• Do check carefully the area around the shipping address and check with your neighbors or anyone who may have the package for you.
• If there is no clue found please call the carrier directly to report a missing package for the fastest logistics information, meanwhile, please email us about the issue as well (support@parfactworks.com). ParfactWorks can not be held responsible for packages stolen from the delivery address so please be sure to ship to a secure location! If the items are lost, we need at least 30-45 days to investigate. So please keep following the logistics dynamics after we provide the tracking number, and do not miss out on our mail about the delivery notification.
The design of this 240w boards is cool and the price is right, but I received the light with the hangers missing.
First QB!!
My first quantum boards. Very impressed. I have 2 of these in a 6x5 just upgraded from some blurple lights. The Par PT240 intensity and coverage area is fantastic.
Highly Recommend
What a beautiful light I highly recommend choosing this light.
Light was packaged excellent
I am just starting my grow so I really can't say much about it but I am sure from the brightness my girls will love it, so I will be giving a second review with pictures Later.
Light was packaged excellent !!
Radiant Full Spectrum Light
Hands down the best light for the money! Works perfectly. Very well designed, high quality parts, easy to set up and use. Plants respond fantastic to vegetation state and flowering state. Would recommend to anyone trying for a small grow. Currently in a 24"x24"x48" tent. Does create some heat. Nothing the plants can benefit from.
Amazing bright and well worth the money.
Amazing. Good packaging. Super slim. Nice dimming function. Replacing a 9 year old 400hps. i really like those lights... But this one so far is better by far. Noticeable difference in heat immediately.
Affordable with great parts
Bad ass light. I have others with great meanwell drivers but that use diodes similar but not Samsung diodes and they're about half as impressive. This is a great price for a great light.
Great value, great output and coverage
I got two, to fill my 5x5 tent. I daisy chained and control two at the same time. Great coverage. Easy to set up with the included ropes hangers. I would recommend these to the budget grower who needs a small fixture to control costs and light produced. Many of the most expensive LED lights are using the Samsung diodes.