-50%

Zoom the image with mouse
Any Questions?
We are here ready to help
ask an expert
ParfactWorks PT120 PRO 120W LED Grow Light (Manual and RJ11 Controllable)
Limited-Time Offers, End in:
📦 All our led grow lights ship discretely.
⬛ Bulk/commercial pricing: contact us for a volume quote.
🌏 We ship worldwide! Receive a quote at checkout or contact us .
📝 Duties/taxes may be due for international orders.
💵 Register to get a member 5% off coupon code and for all lights.
About this Item
High effciency top-bin Samsung LM301H 3000K & 5000K。
Powered by Meanwell, the light is dimmable by knob manual dimmer or RJ11 connection for massive control opperation.
Full Spectrum enhanced with Red, IR & UV.
Reliable passive cooling designed with ultra-thick aluminum heatsink.
Better canopy light penetration with 120 degrees diffused light.
5-year manufacturer's warranty.
Specification
Model No.

PT120 PRO

Power Draw

120W

HPS Equivalent

300W

Dimension/Weight

33cmx25cm/11"x10", 2.27kg/5lbs

Mounting Height
12"-36" above canopy
Lighting Coverage
Veg 3.5'x3.5', Bloom 2'x2'
Power Supply
Meanwell Driver
Input Voltage/Current

Autosensing 100-277V/0.4-1.2A
Dimming

Manual & RJ11 Controller

LED source

Samsung LM301H 3000K (176PCS), 

Samsung LM301H 5000K (72PCS), 

Red 660nm (32PCS), 

IR 730nm (4PCS), 

UV 400nm (4PCS)

PAR Efficiency

2.8 μmol/J

PPFD

814 μmol @12" vertical distance

Full Spectrum

3000K/5000/660nm/UV/IR

Package Includes

1x PT120 PRO light, 1x 6ft power cord, 2x Hangers with carabiners, 2x Adjustable Yoyo Hangers, 1x RJ11 Cable, 1x User Manual

Cooling System

Passive

Operating Temp

20°C ~ 40°C (-4°F ~ 104°F)

Lifetime

>100,000hrs

Warranty

5 Years
Full Spectrum Reading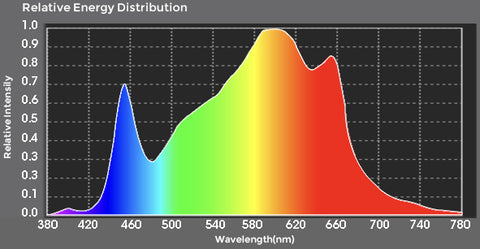 Cool white light 5000K
Accelerate stem growth and promote plants sprout.
Warm white light 3000K
Promote Photosynthesis rate, help plants get more nutrients.
Red light 660nm
Speed up the flowering and fruiting stage, get more crops.
IR light 730nm
Speeds up the Phytochrome conversion, promote plants to produce greater yields.
UV light 395nm
It's that glow that can increase the efficiency of photosynthesis.

We follow strict quality standards and we fully stand behind our products. If you have a issue with your unit we will resolve it quickly.
We offer 5 year warranty on our products including 2 Years Full Parts Warranty plus 3 Years Warranty Extension for all parts.
2 Years Full Parts Warranty: Power supply, fans. VDE, power cord, bulbs, led diodes, COBs etc. We can ship new replacement parts to you at no charge in first 2 warranty years (from the delivery date) or customer can send lights to our repair center for repair at no charge.
3 Years Warranty Extension for all parts, parts can be provided for free, customers pay for the shipping cost and repair fees (if there is any).

Disclaimer: If the light has been tampered or it is found that the damage is caused by the customer, there will be a repair fee associated with the return of your product. If the warranty seal is broken without our consent, your warranty becomes null and void. If damage has been caused by abnormal use, neglect (such as dripping water), wrong input voltage, dropping or breaking the light, disassembling of the light, etc, the warranty is void. PARFACTWORKS LED reserve the right to refuse warranty repair or replacement service to anyone.
We are only responsible for problems that arise through no fault on your part. If any problem should arise, please email us or call us first. We will provide you with instructions on how to proceed. Please do not open the light without our permission. Because we are in China, our service would be different from your local service shop. Please take note of that.
The following are Specific Warranty Procedures:

Minor Repairs
For minor repairs such as a power supply and LED board replacement, please contact us with pictures with the unit on "Showing the lights are on".
By diagnosing the issue and we will send free replacement parts immediately.
In the event that the new replacement part does not correct the problem, or there is a more complex problem, the light will be replaced, after it has been received we will send out a new replacement unit to you. The defective unit must be returned in its original packaging and box. If any part is missing or damaged, the sender will be charged additional fees for those parts or blemishes.

SDUA - Shipping Damage Upon Arrival
Before you sign for your package, you need to verify that the light is in good condition. If the light was damaged in shipping, you need to help us by filing a claim of negligence against the shipping company and get it returned to us by refusing to sign for the lights. Once we get the damaged light, we will reship a new unit to you. If it is only a small problem, you can sign it, and we will give you some refund 6~8USD or we can give you some discount (3%~5%) on your next order.

DUA - Defect Upon Arrival
If a light was found not working upon arrival (DUA), and identified as Non SDUA issues, in most cases, it is just a loose connection inside the light, that is easy to fix.
Customers can choose to check it out and fix it, we will give customers a discount (3%~5%) on the next order.
If a light was found not working upon arrival (DUA), and neither SDUA issues nor loose connections, by diagnosing the issue with us, customers can choose to return the light, we cover the shipping charges and we will reship a new one after the returned light received, or customers can choose to do the replacement work, free replacement parts will be sent out immediately, and we will give customers a refund (15~20USD) for each replacement, or give customers a discount (5%~8%) on the next order.

Additional Service

If any critical or uncertain problems occur, please ship the light back to us and we will study and repair it, when in significant growing stage, SunPlus LED would like to offer used replacement lights to make the repair proceed temporarily.

Used replacement lights conditions:
A: A deposit will be required before sending the replacement light out.
B: Customer will cover 1/2 shipping fee of the replacement light.
C: Customer must send back the replacement light in one week after received the fixed light.
D: ParfactWorks will fully refund the deposit if the replacement light is in good condition.
Why shop at PARFACTWORKS LED Grow Lights?
1) We have been manufacturing LED Grow Lights since 2010 producing great durable LED grow lights.

2) Free Discreet Shipping in the USA
We offer FREE shipping in the USA, our grow lights are stocked in the USA.

3) Reliable International Shipping
All of our led grow lights can be shipped internationally using FedEx, UPS, USPS, DHL or by ocean or rail. Most of our grow lights are stocked in Europe.

4) 100% Low Price Guarantee We strive to ensure that our customers get their durable grow light and great value for the money, we offer the absolute best prices online.

5) We are manufacturer offering a Manufacturer's Warranty.
Shop now with confidence and get 100% honored warranties.

6) Safe, Secure, Discrete Transactions
All card payments are processed through our encrypted SSL security processing system. Your identity is always protected.

7) Hassle-Free Returns
We offer hassle-free return shipping if you are not 100% satisfied for any reason.
Good LED grow light. Very helpful and easy to use.
I put the tree PT120 under California sunshine for the whole day and moved the tree under this LED grow light for two hours each day. In less than 15 days, I saw the flowers coming out from the branches of the tree.
Impressive
Very happy with these grow lights. I have two PT120 Samsung quantum board lights in a 6x6 grow tent.
Affordable
I grow Medical Cannabis Legally in Ma and needed a good light for my indoor grow tent. I did extensive research and purchased the Affordable Parfactworks LED Plant Grow Light and LOVED it so much I ordered a second one for my other small tent.
Right light
Bought this QB to replace my older 600W HPS/WH ,2 minutes to change it out and right away I knew I got the right light. Built well feels solid.
Energy efficient, silent and bright
The Parfactworks PT120 is everything I was looking for in a grow light. Bright light, compact size, no loud fan, almost no heat and has a clever, easy to manage hanging system. I liked it so much I bought a second light.
Excellent light
Seriously words cannot describe how amazing this light is. I'm in love with this light! It is beautiful from design to performance and even packaging. Comes with everything you need plus more. The dimmer function works perfect. Me and my plants want to thank the parfacts team for this excellent light 🏆🏆
Small light, works well
This light is very lightweight, portable and easy to set up. Comes very nicely packaged with everything you'll need to hang it up and turn it on.
I do recommend this light. I have mine in a 2 x 3 tent with 2 small plants and they seem to love it.
Great light
This light is currently putting in work as a seedling/clone light for me and is working great. No fan, so it's super quiet. It uses Samsung diodes and Mean Well drivers which are both leaders in LED hardware so reliability should be high.