-31%

Zoom the image with mouse
Any Questions?
We are here ready to help
ask an expert
ParfactWorks ZE510 510W LED Grow Bar Light (3 Channels Dimmable)
Limited-Time Offers, End in:
📦 All our led grow lights ship discretely.
⬛ Bulk/commercial pricing: contact us for a volume quote.
🌏 We ship worldwide! Receive a quote at checkout or contact us .
📝 Duties/taxes may be due for international orders.
💵 Register to get a member 5% off coupon code and for all lights.
Heavy Duty but Not "Heavy"
Fixture comes with industry thickest heatsink guarantee you less heat resulting in longer lifespan.
Extremely easy to transport and install thanks to the 'Clip in & out' design which also makes your life easier with lowest maintenance cost and big saves on shipping.
Adjustable Full spectrum
Adjustable Spectrum basing on three Independent Dimmable Channels with RJ11 daisy chain option for massive grow operation via a controller.Using Top-bin Samsung LM301H LEDs and Osram ssl80 (incl. White Blend 3000k & 5000k, 660nm red, 730nm IR and 395nm UV).

Powered by Meanwell and Sosen, the power of each channel 0-10V dimmable.

Balanced Light Distribution
Uniform level of PPFD coverage for better canopy penetration.

Energy Saving
Energy Saving up to 50% to an equivalent 2000W HPS light fixture.

Maximum Performance
50% higher yield and plant quality with max yield up to 2.5g/W compared to traditional lighting.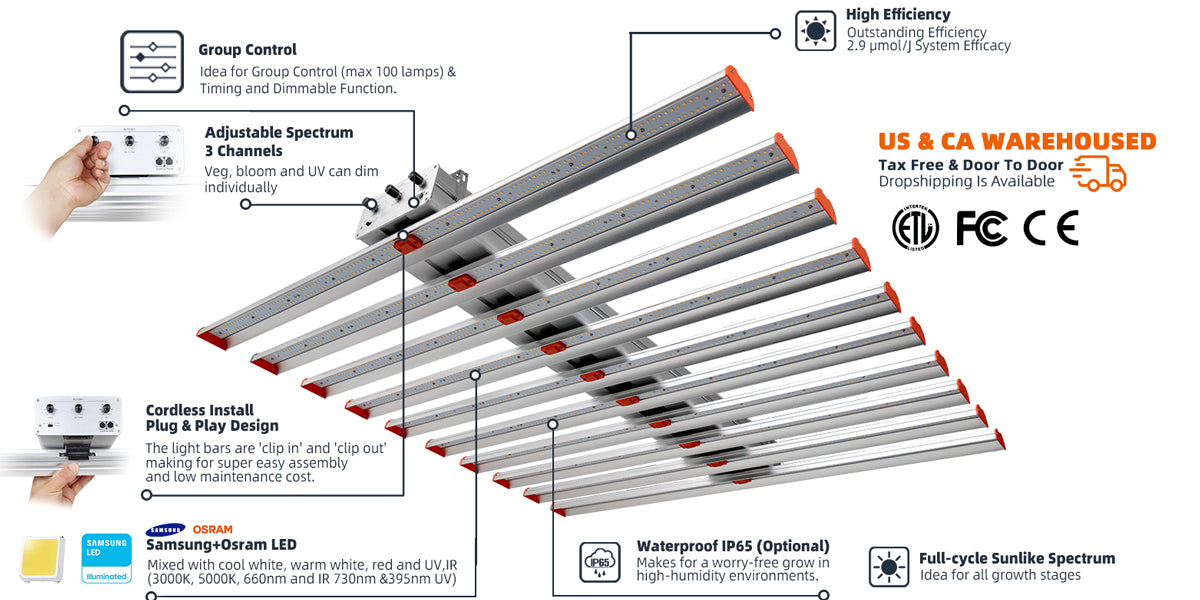 Specifications
Model Name


ZE510

Spectrum

Full Spectrum with UV, IR

LED Brand

Samsung LM301H, Osram ssl80

Diodes

576pcs 5000k + 432pcs 3000K+48pcs 660nm+12pcs 730nm+12pcs 395nm

Input Power

510W

Input Voltage
100-277V
Efficacy
2.9umol/j
Certification
ETL, FCC, CE, ROHS
Fixture Dimensions(cm)
84(L) x 84(W) X 11(H)
Thermal Management
Passive
Dimming
Manual & Rj11 controller
Light Distribution
120°
Coverage
Veg 5.5' x 5.5', Bloom 4.5' x 4.5'
Lifetime
> 70,000hrs
IP Rating
Not waterproof (waterproof IP65 

as needed

)

Warranty

5 Year Standard Warranty

Package include
1 x Ze510 Grow Light Bar
1 x 6ft Power Cord
2 x Hangers with carabiners
2 x Adjustable Yoyo Hangers
1 x RJ11 Cable
1 x User Manual
ParfactWorks ZE510 PAR Readings
Independent Dimmable Three Channels - VEG/BLOOM/UV
Hanging Distance & Lighting Time
We follow strict quality standards and we fully stand behind our products. If you have a issue with your unit we will resolve it quickly.
We offer 5 year warranty on our products including 2 Years Full Parts Warranty plus 3 Years Warranty Extension for all parts.
2 Years Full Parts Warranty: Power supply, fans. VDE, power cord, bulbs, led diodes, COBs etc. We can ship new replacement parts to you at no charge in first 2 warranty years (from the delivery date) or customer can send lights to our repair center for repair at no charge.
3 Years Warranty Extension for all parts, parts can be provided for free, customers pay for the shipping cost and repair fees (if there is any).

Disclaimer: If the light has been tampered or it is found that the damage is caused by the customer, there will be a repair fee associated with the return of your product. If the warranty seal is broken without our consent, your warranty becomes null and void. If damage has been caused by abnormal use, neglect (such as dripping water), wrong input voltage, dropping or breaking the light, disassembling of the light, etc, the warranty is void. PARFACTWORKS LED reserve the right to refuse warranty repair or replacement service to anyone.
We are only responsible for problems that arise through no fault on your part. If any problem should arise, please email us or call us first. We will provide you with instructions on how to proceed. Please do not open the light without our permission. Because we are in China, our service would be different from your local service shop. Please take note of that.
The following are Specific Warranty Procedures:

Minor Repairs
For minor repairs such as a power supply and LED board replacement, please contact us with pictures with the unit on "Showing the lights are on".
By diagnosing the issue and we will send free replacement parts immediately.
In the event that the new replacement part does not correct the problem, or there is a more complex problem, the light will be replaced, after it has been received we will send out a new replacement unit to you. The defective unit must be returned in its original packaging and box. If any part is missing or damaged, the sender will be charged additional fees for those parts or blemishes.

SDUA - Shipping Damage Upon Arrival
Before you sign for your package, you need to verify that the light is in good condition. If the light was damaged in shipping, you need to help us by filing a claim of negligence against the shipping company and get it returned to us by refusing to sign for the lights. Once we get the damaged light, we will reship a new unit to you. If it is only a small problem, you can sign it, and we will give you some refund 6~8USD or we can give you some discount (3%~5%) on your next order.

DUA - Defect Upon Arrival
If a light was found not working upon arrival (DUA), and identified as Non SDUA issues, in most cases, it is just a loose connection inside the light, that is easy to fix.
Customers can choose to check it out and fix it, we will give customers a discount (3%~5%) on the next order.
If a light was found not working upon arrival (DUA), and neither SDUA issues nor loose connections, by diagnosing the issue with us, customers can choose to return the light, we cover the shipping charges and we will reship a new one after the returned light received, or customers can choose to do the replacement work, free replacement parts will be sent out immediately, and we will give customers a refund (15~20USD) for each replacement, or give customers a discount (5%~8%) on the next order.

Additional Service

If any critical or uncertain problems occur, please ship the light back to us and we will study and repair it, when in significant growing stage, SunPlus LED would like to offer used replacement lights to make the repair proceed temporarily.

Used replacement lights conditions:
A: A deposit will be required before sending the replacement light out.
B: Customer will cover 1/2 shipping fee of the replacement light.
C: Customer must send back the replacement light in one week after received the fixed light.
D: ParfactWorks will fully refund the deposit if the replacement light is in good condition.
Why shop at PARFACTWORKS LED Grow Lights?
1) We have been manufacturing LED Grow Lights since 2010 producing great durable LED grow lights.

2) Free Discreet Shipping in the USA
We offer FREE shipping in the USA, our grow lights are stocked in the USA.

3) Reliable International Shipping
All of our led grow lights can be shipped internationally using FedEx, UPS, USPS, DHL or by ocean or rail. Most of our grow lights are stocked in Europe.

4) 100% Low Price Guarantee We strive to ensure that our customers get their durable grow light and great value for the money, we offer the absolute best prices online.

5) We are manufacturer offering a Manufacturer's Warranty.
Shop now with confidence and get 100% honored warranties.

6) Safe, Secure, Discrete Transactions
All card payments are processed through our encrypted SSL security processing system. Your identity is always protected.

7) Hassle-Free Returns
We offer hassle-free return shipping if you are not 100% satisfied for any reason.
great product, but be careful
AMAZING product for the price. definitely suuuuper bright so only use for your plants once they are bigger & more sturdy and keep the light hanging at 24" at least.
Good light
The light is bright, light, and works as expected. It is a 500w light. It does the job for a large space. Plants like it a lot. Easy to hang and work around. It does produce some heat but not very much. Overall it is a good light. Excellent quality.
Stop looking, just buy
Absolutely incredible light!!! The efficiency and performance of this light is top match. You will notice a difference immediately. No noise. Very little heat. Amazingly light weight and easy set up. Coverage is very good and evenly spread for the light bar design. Penetration is key and these little bars will shock you. I am thoroughly impressed. Will buy more and upgrade as time goes by undoubtably!
Great value, great output and coverage.
This light is a beast for the value and size! Covers a 4x4 area. I have three different LEDs that are available on the market and they all function the same, i feel the parfacts has the highest ppfd output out of all 3. Worth the price.
Impressive light
I use an app on my iPhone called Korona as a par meter. The numbers are impressive for the price of this light. At 12" I'm getting about 1460ppfd at full power. The nice thing is I measure that ppfd for the whole of my tent not just the center. The dimmer, construction, weight are all good. The best thing is to dim the UV independently. To modify the color of the light as the plants progress. All in all this is a great light for the money. I would definitely buy again and not hesitate to recommend it to anyone looking to try this style light.
Full spectrum, dimmable, impressive results.
I have used parfactworks RA2000 lights with great success but needed something larger. Decided to try this 510w bar style light and glad I did. My plants seem extremely happy and are growing as well or better than under a different brand I had. Excited to flip them to flower and really see what it can do.
Works very well
Brought 2 pcs Ze510 lights recommended by a good friend .My 1st time growing indoors.Works great easy to use.
Packaged well protected
Packaged well protected. Just starting using it, we will see how it works. Another one would or two in my big tent would cover well. No built in fans is quiet, good price.